OXVA XLIM PRO POD VAPE KIT
Please note: Pods are 2 ml capacity, as per TPD regulations.
The Oxva Xlim Pro Pod Vape Kit is the pro edition of the increasingly popular Xlim series of MTL pod vaping devices with improved 1000 mAh battery capacity, top-filling anti-leaking Xlim V3 pod cartridges, ergonomic airflow control and is capable of up to 30 watts of adjustable power.
The Xlim Pro features a side-located ergonomic airflow control, RGB glittering light display and is constructed and available in eight differing zinc alloy finishes of glimmering paintwork.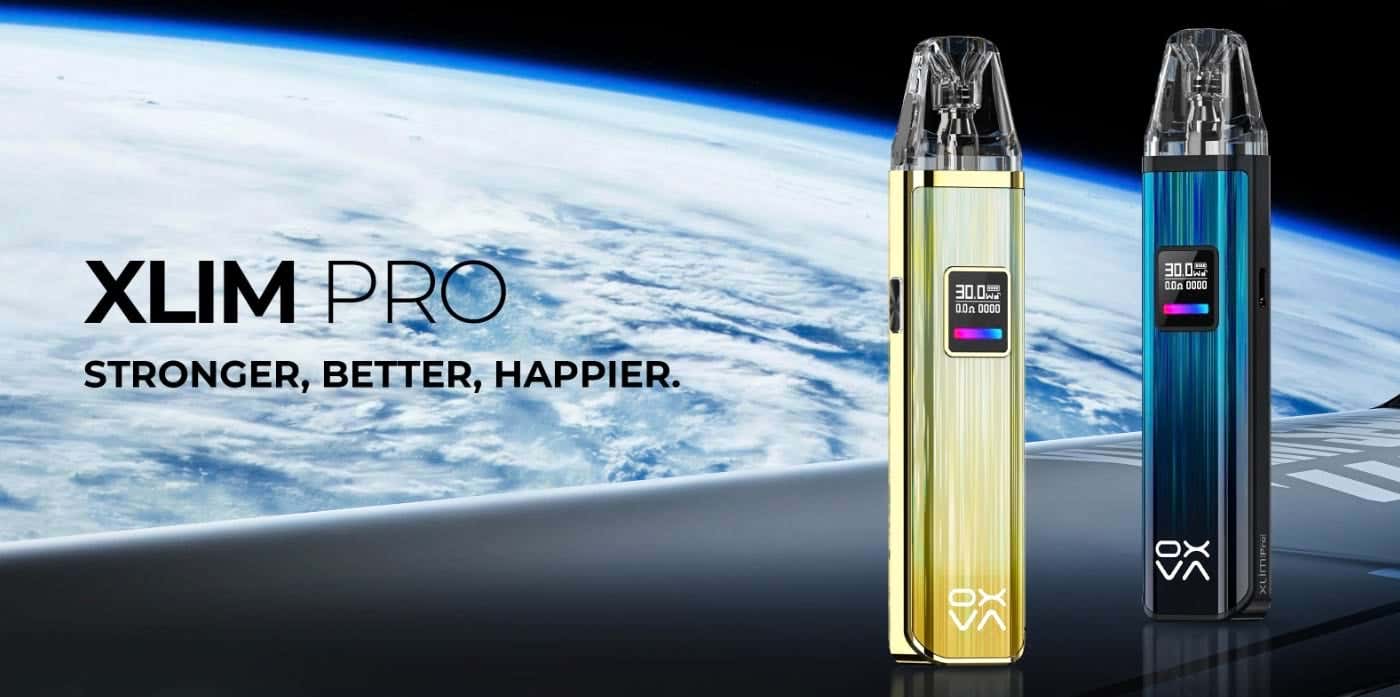 Available in 8 Colours
The Xlim PRO pod vaping system is available in the following eight colours, including six gleamy finishes of zinc alloy body.
Black Carbon
Black Gold
Gleamy Blue
Gleamy Cyan
Gleamy Green
Gleamy Grey
Gleamy Pink
Gleamy Red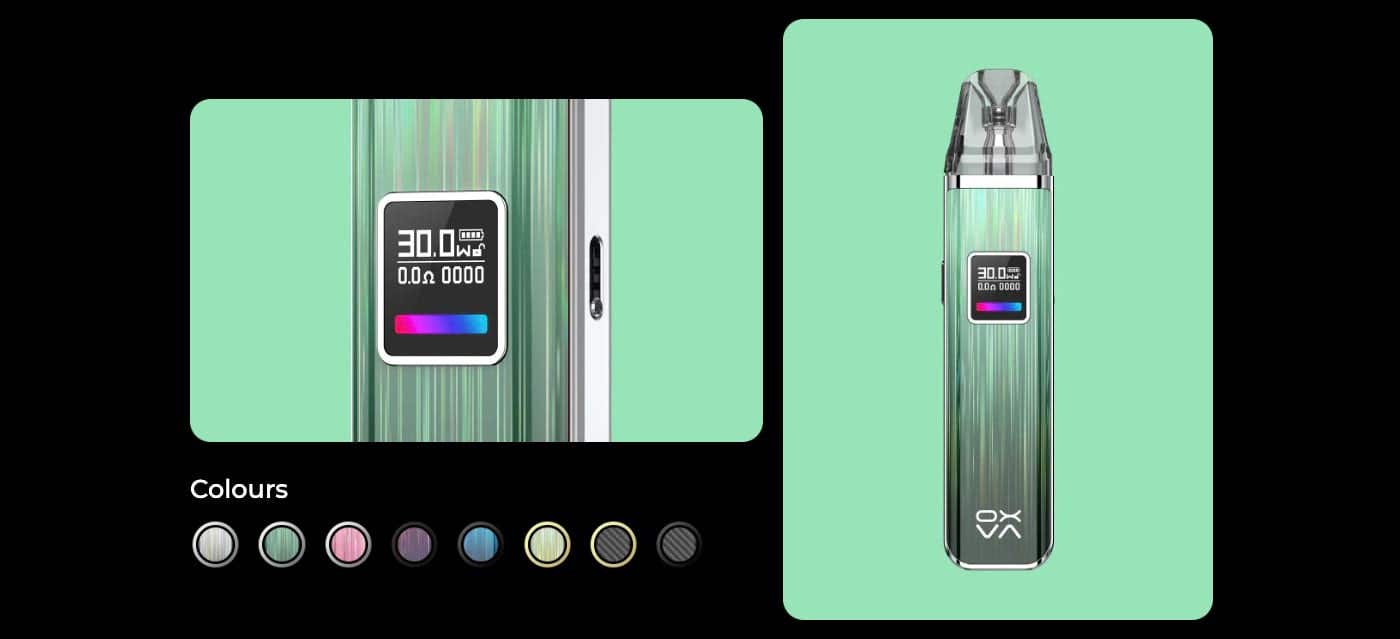 Features and Highlights
Glittering RGB Light
Ergonomic AFC
30 Max output power
Auto-draw and Button activation
Anti-leak top-fill V3 cartridges
1000 mAh built-in battery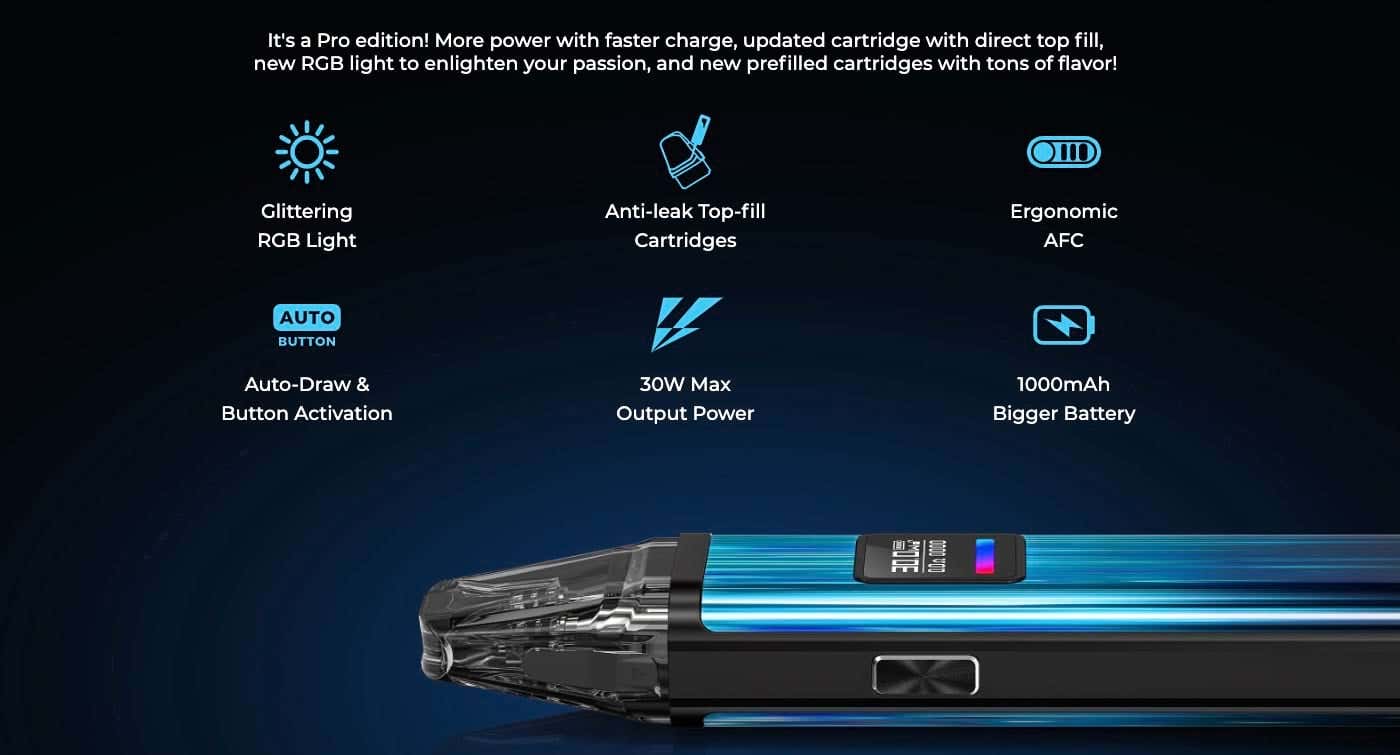 Glittering
The Xlim PRO features a new RGB light display, glittering with an array of colours when in use.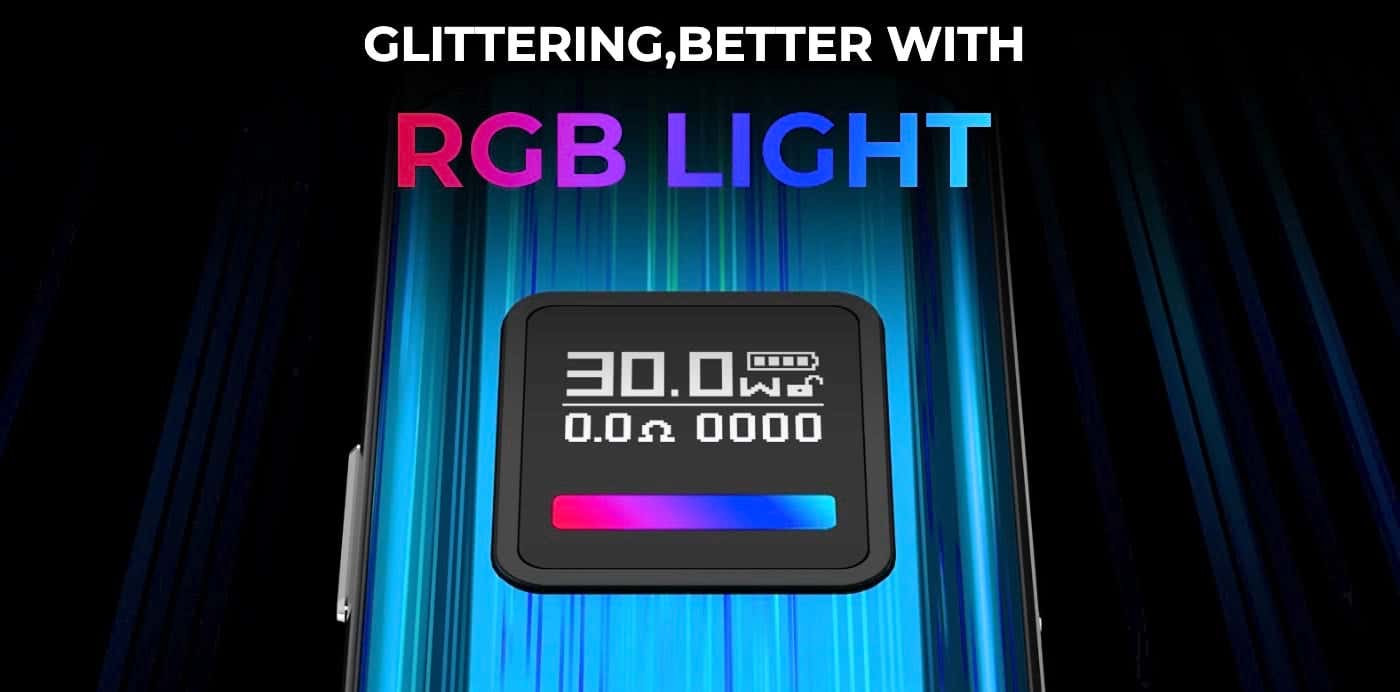 Stronger
Oxva's Xlim PRO unleashes a new level of performance with stronger, maximum power capabilities up to 30 watts.

All-day
The Xlim PRO pod vaping kit has an increased battery capacity of 1000 mAh, providing up to 3-days of moderate use vaping, without any interruptions.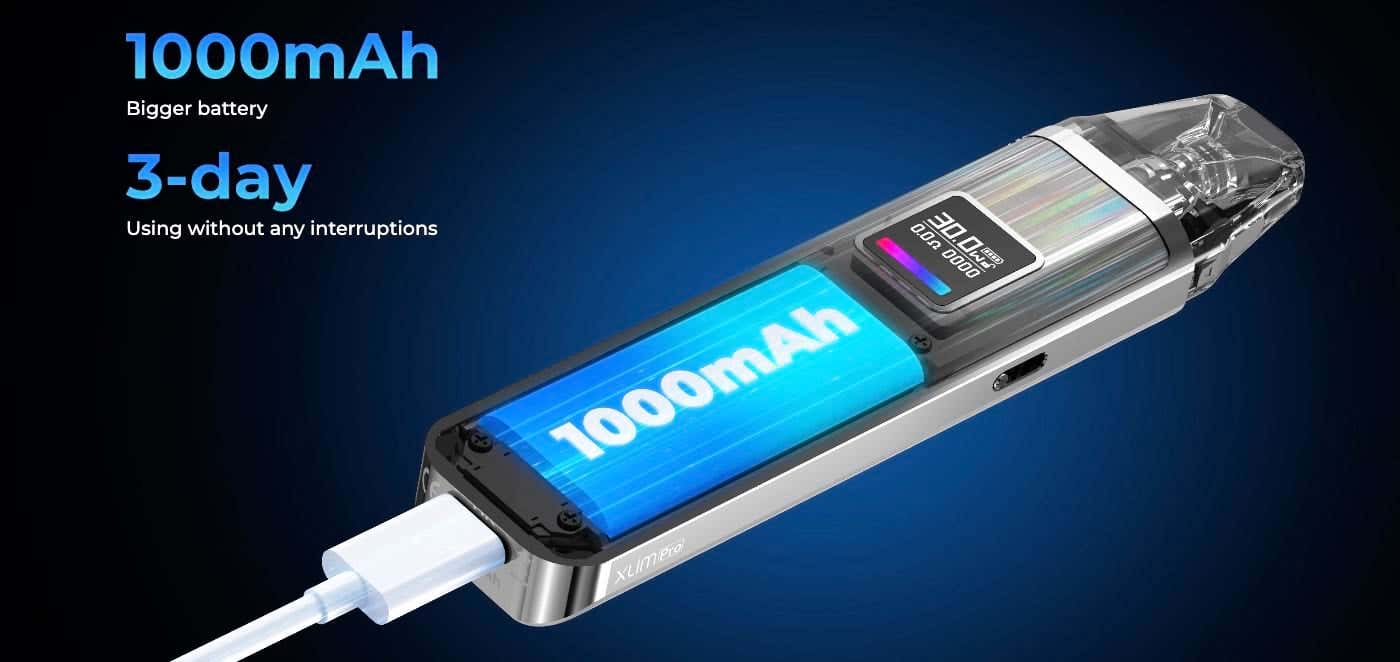 NEW Xlim V3 Pods
The Oxva Xlim PRO pod kit is compatible with both the V2 pods, and newly upgraded V3 Pods.
The V3 refillable pods feature a top-filling rubber filling bung, allowing the user to refill their device without the need to remove the pod from the battery component, unlike its predecessor where the refilling hole was located on the side, within the confinements of the unit.

Choice
The Oxva Xlim V3 Pods are available in a choice of 3 different resistances of mesh constructed built-in coils, and perfect for mouth to lung vaping with the eliquid of your choice.
We would always recommend using either Freebase Nicotine, or Nic Salt vape juices with the Xlim V3 pods, allowing sufficient time for the liquid to soak into the pod, before use.
Options
0.6Ω - Restricted Direct to Lung vaping, offering a strong throat hit
0.8Ω - Mouth to Lung vaping, offering medium, to strong throat hit
1.2Ω - Mouth to Lung vaping, for a smoother, lesser throat hit

Compatibility
The Oxva Xlim Pro pod vaping device is also compatible with the earlier Xlim V2 pod cartridges, which feature the same three choices of resistances, but are a side-filling pod design.
The V2 pod cartridge requires the user to remove the pod to refill their eliquid, different to the V3 option where you can refill with the pod cartridge seated in the battery device.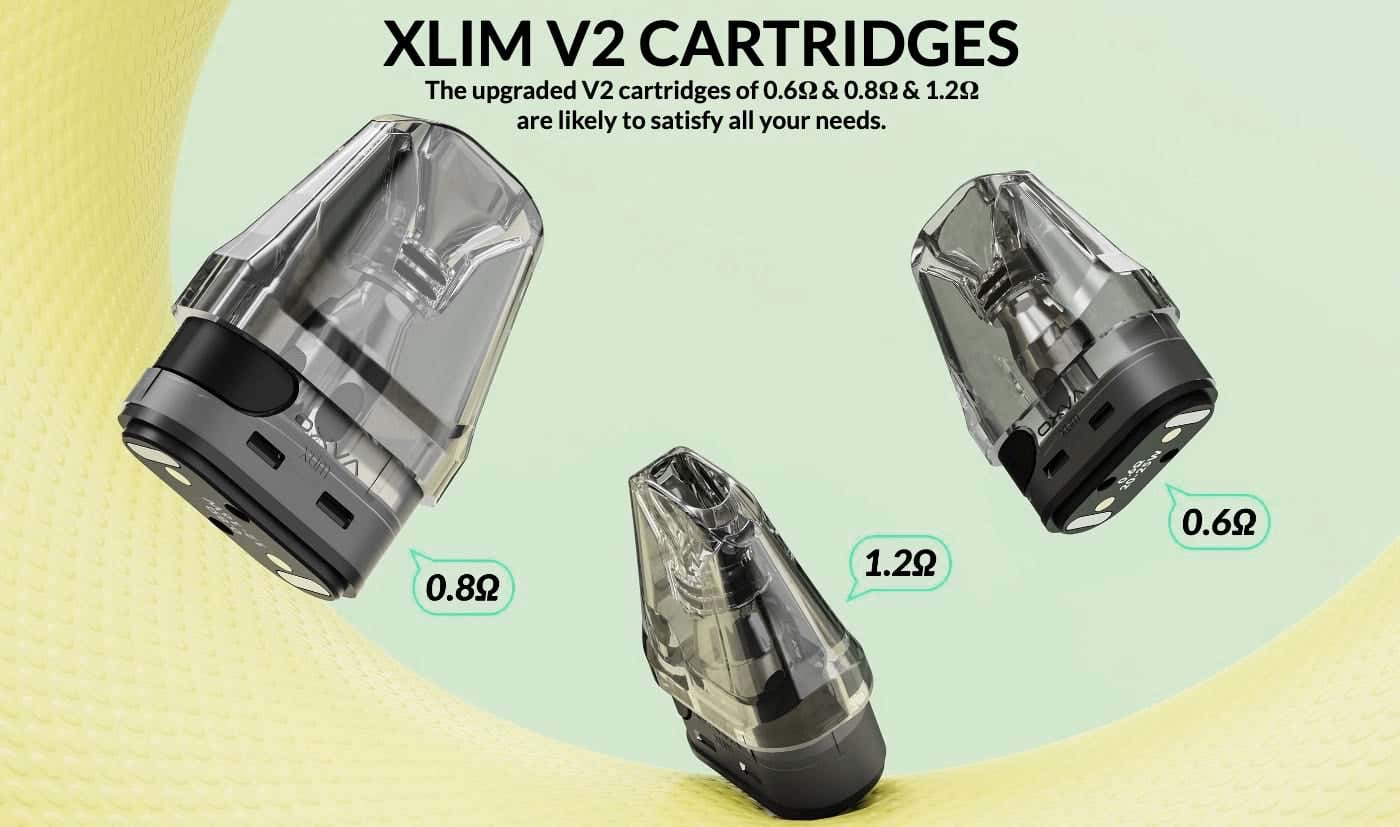 Specifications
Dimensions: 25.0 x 14.3 x 111.0mm
Weight: 66g
Output Power: 5-30w
Xlim V3 Pod Capacity: 2 ml TPD compliant
Side AFC (Airflow Control)
Type-C USB Charging: DC 5V/2A
Battery Capacity: 1000 mAh
Material: Zinc Alloy + IML + PCTG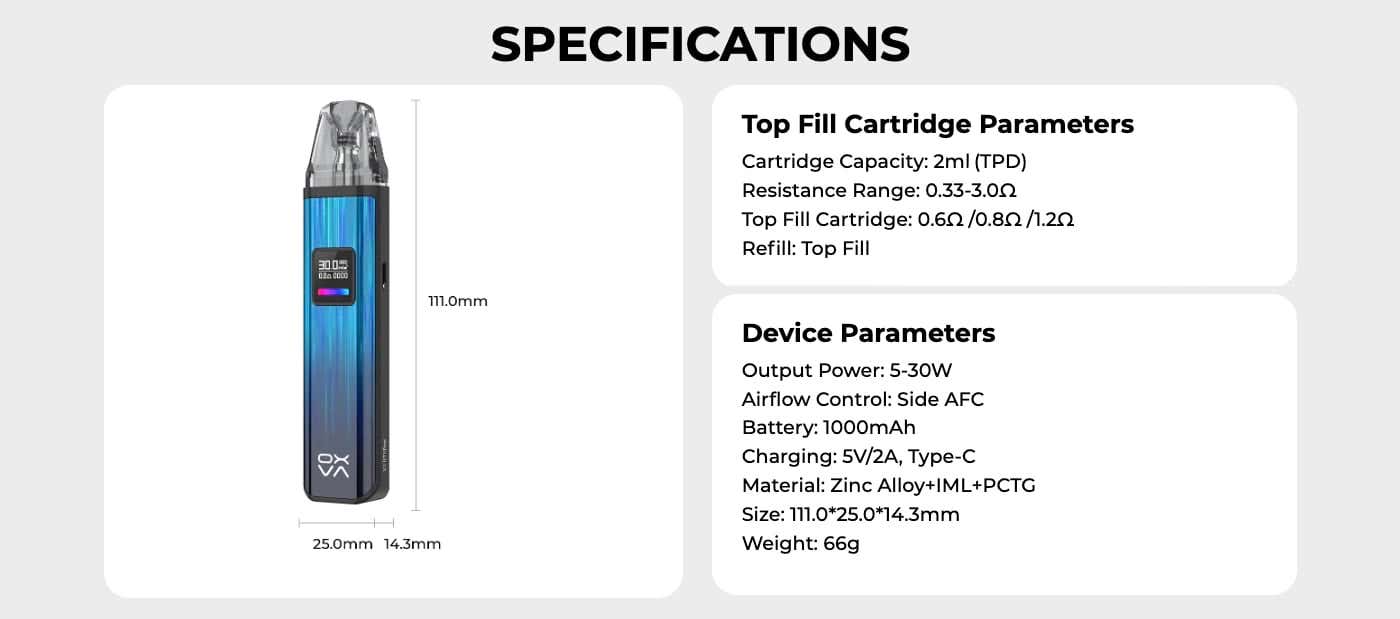 What's in the box?
Xlim PRO Pod battery device
1 x Xlim V3 Top-Filling 0.6Ω Refillable Pod (preinstalled)
1 x Xlim V3 Top-Filling 0.8Ω Refillable Pod
1 x Type-C USB charging cable
1 x Lanyard
User Manual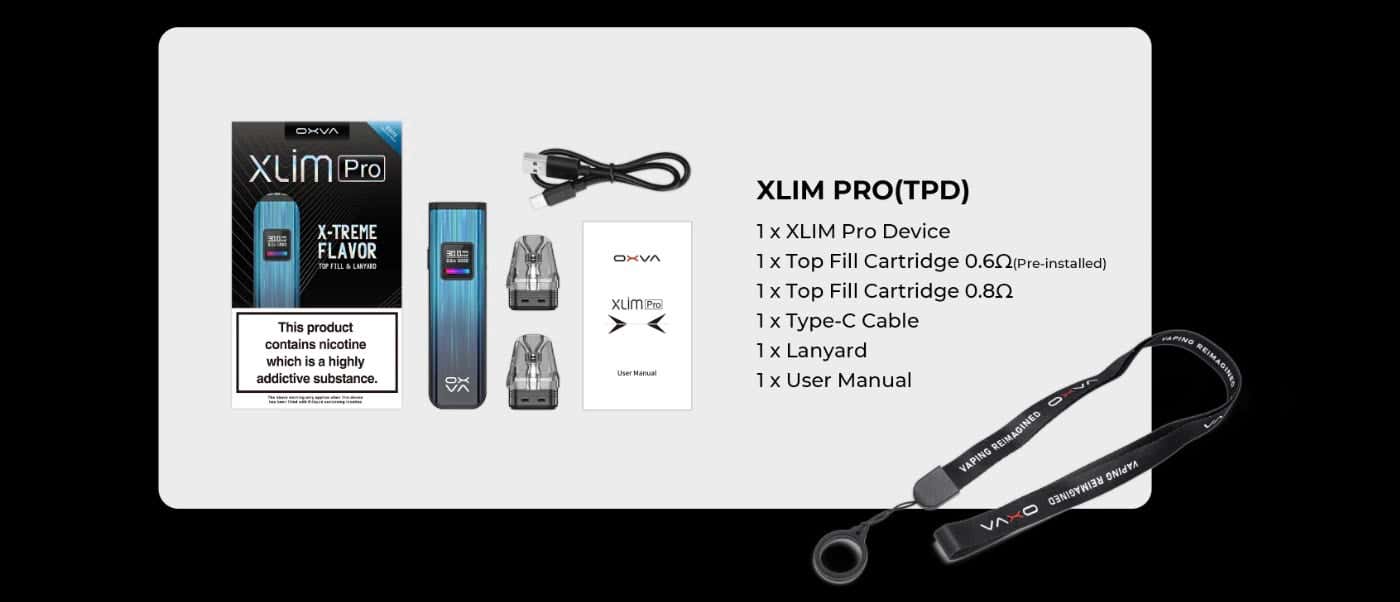 Depending on how many cigarettes you smoke, we recommend the following strength e-liquids with the Oxva XLIM PRO Pod Vape Kit.